Brut Born Rosé: a fresh and sparkling wine that you will always want more of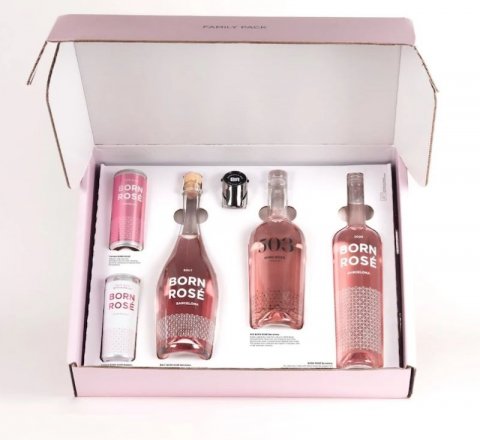 ---
From Barcelona to the world. Born Rosé is a rosé wine brand that was born in the city of Barcelona and today is present in a large part of the world. One of its most outstanding products is the Brut Born Rosé wine that masterfully combines acidity, the naturalness of its fruit and flower notes and its energizing mouthfeel.
Rosé wine is always present in every celebration. In the past it was mostly used during the summer because of its freshness, but nowadays, it is part of practically every wine list that boasts of being complete.
The preference for tasting a refreshing rosé wine is given by all its attributes. It is ideal for different pairing options, as it perfectly blends the freshness of white wine with the incomparable mouthfeel of red wine, which makes this
drink
versatile for combining flavours with different types of food.
The sublime and refreshing rosé wine is like a red wine but with much less maceration. The most common method used for its production is the pressing of the black grapes and then the short maceration of the skins with their juice, which gives it its characteristic touch of colour.
The process results in a wine that
is cleaner and lighter than a red wine
, but more powerful than a white.
However, the rosé wine must be chosen very carefully for total enjoyment. Born Rosé is a brand that is growing more and more and is present all over the world. It stands out for being an innovative proposal that combines very well with different types of dishes or simply to be enjoyed at a special moment.
Born Rose wine
has gained a place in the market in a relatively short time, so much so that there is even talk of the 'Rosé Revolution' phenomenon. Its acceptance goes beyond Europe, conquering other continents and countries as influential in
world
dynamics as the United States. Connoisseurs have included this rosé wine in the select top five of the best in the world.
This brand, originally from Barcelona, was born with an innovative concept and a commitment to pleasure and authenticity. Its philosophy is based on the idea that uncorking a bottle is not a formal act, but a fun moment. One of its slogans is that this
sparkling rose wine
has as its only denomination of origin the perfect symbiosis between a good company and the place chosen to share it.
It was born out of the concern of its creators as to why Barcelona could not have its own rosé wine, a drink that would combine with the dynamism, authenticity and originality of the city of Barcelona, which is characterized by its relaxed and cosmopolitan lifestyle at the same time.
Brut Born Rosé: elegant and nuanced
Among the brand's products, one that stands out is the Brut Born Rosé. It is an elegant wine with many nuances, with a predominance of citrus aromas: grapefruit and orange, as well as red fruits (strawberry and cherry), all with a background of quite fresh floral notes.
The mouthfeel is a balanced mix of sweetness and acidity, without forgetting the very pleasant sparkling entry and the finish that brings freshness, is persistent and leaves you wanting more.
As for the winemaking process, the Brut Born Rosé wine undergoes an initial fermentation at a low temperature in stainless steel tanks. The Charmat method is used for the mirage and the deposit of foam, with the aim of giving power to the aromas that evoke the flower and fresh fruit.
The Brut Born Rosé product has four characteristics that make it unique:
It is natural
, and this is given by its aromas of fruit and flower.
It is young
, because despite being young and not having experienced the evolution of this type of product, it is of very high quality.
Furthermore,
it is fresh
, as it has a perfect combination of acidity and natural notes of flower and fresh fruit.
It is lively
, a characteristic that results from the carbon dioxide that gives it life and youth.
Copyright © Superbious.com and Jay Gory 2012-2022 All Rights Reserved.